united states & canada
Published by Gallery, Simon & Schuster
May 23rd 2017
Love is more powerful than gravity.
"We're going to be fine."
He looks around, but there's nothing out here: nothing but the bottomless black universe on their left, the Earth suspended in glorious Technicolor to their right.
Trapped in the vast void of space, Carys and Max have only ninety minutes of oxygen left to live. None of this was supposed to happen. After a freak accident, Carys and Max are left adrift in space with nothing to hold onto but each other. As they fall, they can't help but look back at the world they left behind. A world whose rules they couldn't submit to, a place where they never really belonged; a home they're determined to get back to because they've come too far to lose each other now. While their air ticks dangerously low, one is offered the chance of salvation—but who will take it?
In this startling and evocative novel harkening to both ONE DAY and GRAVITY, HOLD BACK THE STARS shows how the choices we make can change the fate of everyone around us.
Pre-order the US hardback edition on the following sites:
russiaN
Задержи звезды
Кэти Хан
Published by Hemiro
February 27th 2017
Идеальный мир, построенный людьми на руинах цивилизации, сделал лишними нации, страны, религии – все, что могло привязать людей друг к другу или отторгнуть. Любви в этом стерильном, стремительном, практичном мире не осталось. Пока простой повар Макс не встретил пилота шаттла Кэрис. Но испытывать их чувства будет безжалостный открытый космос… Это будет любовь, где вместо гравитации – лишь притяжение друг к другу. Они будут бороться – 90 минут: за каждый шанс на спасение, за каждый глоток воздуха, за жизни друг друга и за свою любовь – слишком яркую и стремительную, чтобы погаснуть без следа…
«Задержи звезды», автора Кэти Хан, в жанре «Фантастика», 2017 года издания. Также в каталоге книг присутствует навигация по жанрам, авторам и сериям, которые помогут вам сделать правильное решение при выборе того или иного произведения. Прочитав книгу «Задержи звезды», другим читателям хотелось бы услышать от вас отзыв о ней, который можно оставить в конце страницы соответствующей карточки книги.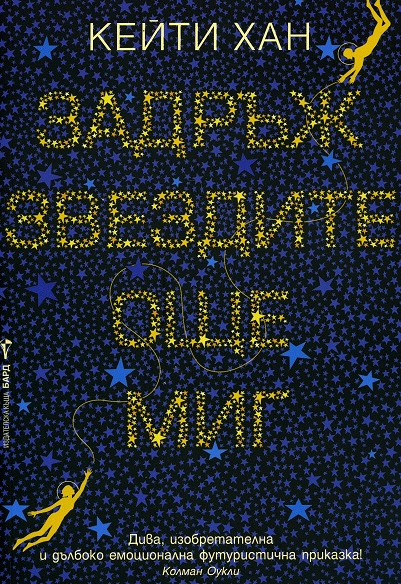 BULGARIAN
Задръж звездите още миг
Кейти Хан
Published by Bard
April 18th 2017
арис и Макс се носят в космоса. Остава им въздух за деветдесет минути.
Те си спомнят за света, от който идват. Свят с правила, на които не могат да се подчиняват. Там никога не са се чувствали на място, но са твърдо решени да се върнат. Защото са стигнали твърде далеч, за да се изгубят един друг...
Въздухът опасно намалява. Един от тях има шанс да се спаси. Но дали ще го направи?
Рядка, завладяваща комбинация от екшън, дълбока емоционалност и интелигентни идеи. Най-уникалната история, която съм чел от години.
Роуан Колман
polish
Zatrzymac Gwiazdy
Published by Zysk
April 24th 2017
Carys i Maxowi zostało tylko półtorej godziny powietrza. Spadają przez pustą przestrzeń kosmosu, nie mając nic prócz siebie wzajem. Szukając więc w sobie oparcia, wspominają świat, który za sobą zostawili. Świat, którego reguł nigdy tak naprawdę nie potrafili uznać, który nigdy nie był ich domem, do którego jednak za wszelką cenę chcą wrócić, ponieważ jest jedyną szansą na uratowanie ich miłości…
W następstwie wojennego kataklizmu, który spustoszył Stany Zjednoczone i Bliski Wschód, w Europie zapanował utopijny ustrój społeczny oparty na tzw. Rotacji, która przewiduje, że co trzy lata obowiązkowo wszyscy obywatele zmieniają miejsce zamieszkania, przenosząc się do innych wielokulturowych społeczności, gdzie żyją życiem skupionym wyłącznie wokół własnych, indywidualnych celów. W tym raju Max spotyka Carys i natychmiast budzi się w nim uczucie. Szybko zdaje sobie sprawę, że oto jest dziewczyna, z którą chciałby stworzyć poważny związek, na który jednak nie pozwalają prawa nowego świata…
"Dramatyczna, frapująca intelektualnie love story spod pióra odważnej debiutantki. Być może to nazbyt banalne, ale jak nigdzie pasuje tu określenie «nieziemska»".
FRENCH
S'Accrocher Aux Etoiles
Published by Super 8 Editions
May 11th 2017
Ne lâche jamais ma main.
Dérivant dans l'espace, Carys et Max n'ont plus que 90 minutes d'oxygène disponible – 90minutes durant lesquelles, en contact avec l'intelligence artificielle de leur vaisseau, il va leur falloir essayer de sauver leur vie.
Accrochés l'un à l'autre, les deux amoureux regardent la planète bleue s'éloigner, et se souviennent de leur rencontre, et évoquent le monde qu'ils laissent derrière eux. Un monde censément idéal duquel l'amour est banni.
Roman spatial à grand spectacle évoquant immanquablementGravity, compte-à-rebours dopé au cortisol, S'accrocher aux étoiles est aussi une love-story grandiose, mettant en scène deux personnages que l'amour a changé et qui aimeraient à présent changer le monde. Mais à quel prix ?
DUTCH
Tussen de sterren
Published by Luitingh Sijthoff
June 17th 2017
Tussen de sterren van Katie Khan is een spannend en ontroerend liefdesverhaal met een compleet onverwacht slot. Genoten van de film Gravity of van de boeken van John Green? Dan is dit een aanrader voor jou.
Carys en Max hebben nog negentig minuten zuurstof. Tenzij ze met een goed idee komen, zullen ze over anderhalf uur sterven. Maar zo hoeft het niet te eindigen. Carys en Max zweven in de ruimte en kijken naar de wereld die ze hebben achtergelaten; een goed geoliede machine waar ze zich niet meer thuis voelen.
Tussen de sterren is het eigenzinnige en ontroerende verhaal over twee mensen die voor elkaar vallen in een wereld waar ware liefde verboden is. Wat gebeurt er als je dan de liefde vindt?
ITALIAN
Regalami Una Stella
Published by Newton Compton
September 7th 2017
Niente al mondo potrà dividerli

Un esordio stellare
Tradotto in 21 Paesi

La suspense di Gravity incontra il romanticismo di Un giorno: una storia d'amore unica e indimenticabile

«Andrà tutto bene». Si guardano attorno, ma non c'è niente là fuori: nient'altro che l'universo nero, senza fondo, alla loro sinistra, e la terra, sospesa, alla loro destra. Allontanatisi dalla loro astronave e ormai fluttuanti nello spazio, Carys e Max si rendono conto che non riusciranno più a raggiungerla. Con sé non hanno niente che possa salvarli. Hanno solo novanta minuti d'aria a disposizione. Carys e Max non avrebbero mai dovuto innamorarsi. Le regole del mondo da cui provengono non lo permettono. Eppure, quando ha incontrato Carys, Max ha sovvertito quelle regole. Pur sapendo che sarebbe stato impossibile rimanere insieme per tanto tempo. Che amarsi realmente non sarebbe stato loro concesso. Ora, alla deriva e senza più niente che li trattenga se non il reciproco contatto, non possono fare altro che ricordare. Mentre i minuti scorrono inesorabili, nei loro pensieri rivive ogni istante della loro indimenticabile storia d'amore…

Niente al mondo potrà dividerli. Anche nello spazio può continuare a vivere una storia d'amore…

«Un esordio davvero geniale.»
Sunday Express

«Tenero, profondo, inquietante.»
Press Association

«Il nuovo Un giorno.»
Stylist Magazine

«Favoloso, brillante, straziante… Una storia d'amore da ricordare.»
Debbie Howells
GERMAN
Schwerelos
Published by Heyne Random House
December 11th 2017
Zwei Menschen, schwerelos und allein. Um sie herum: die Schwärze des Alls. Unter ihnen, zum Greifen nah und doch unerreichbar: ihr Zuhause, der blaue Planet. Jetzt haben Carys und Max bloß noch einander zum Festhalten – und nur noch Atemluft für neunzig Minuten. Gemeinsam blicken sie auf die Erde, die ihnen als Liebende keinen Platz bot. Die Erde, zu der sie nun um jeden Preis zurückkehren wollen. Doch die Zeit läuft gegen sie ...
CZECH
Zadrž hvězdy
Katie Khan
Published by Argo
September 30th 2017
CHINESE (COMPLEX)
Published by Citic
CHINESE (SIMPLIFIED)
Published by Eurasian
HUNGARIAN
Published by Libri
JAPANESE
Published by Hayawaka
KOREAN
Published by Booklog
PORTUGUESE
Published by Marcador
PORTUGUESE (BRAZIL)
Published by Bertrand
ROMANIAN
Published by Nemira
SERBIAN
Published by Vulkan
SPANISH
Published by Fantascy, Penguin Random House
TURKISH
Published by Yabanci